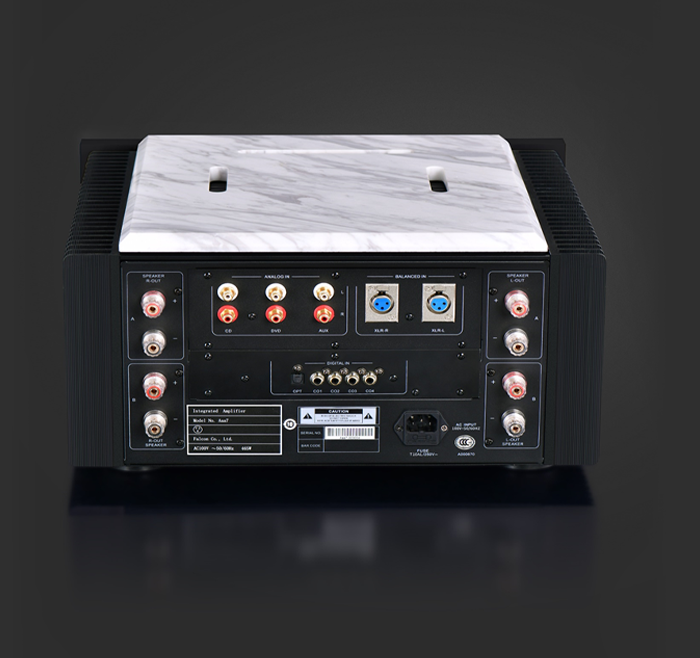 Backside view Aaa7 背面 (the photo shows the optional marble top plate.)
系統の大型スピーカー端子装備
ライン入力3系統装備。
Equipped with 2 series large speaker terminals
Equipped with 3 line inputs.
バランス入力1系統装備(バランス端子は3ピン構造のため、音声信号を平衡信号で伝 送でき、外来ノイズの影響を少なくすることができます。)
Equipped with one balanced input system (Since the balanced terminal has a 3-pin structure, audio signals can be transmitted as balanced signals, and external noise can be reduced.)
デジタル入力端子5系統装備
オプションで豪華さを更に引き出す為に大理石の天板を装備
Equipped with 5 digital input terminals
Equipped with a marble top plate as a option to bring out more luxury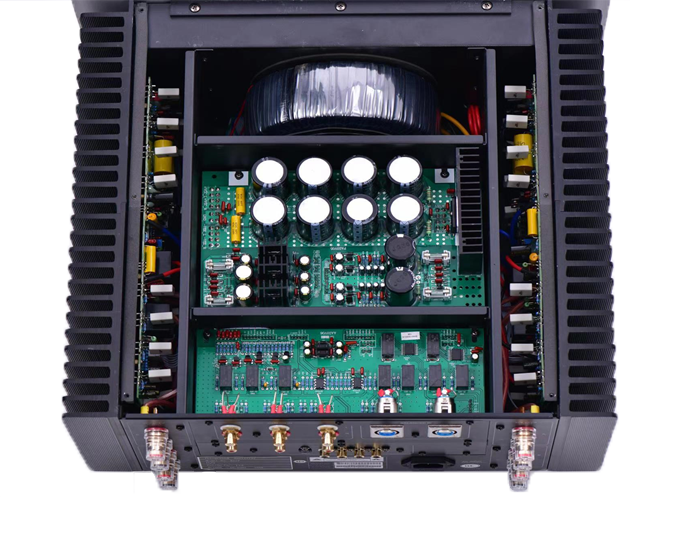 Inner view Aaa7 内部
干渉を防ぐための頑丈な構造
5つの密閉設計構造、電源、入力、エネルギー貯蔵、および左右
チャネルは厳密に独立しているため、ボックス内の自由電磁波が大幅に減少します。
大きな高効率なアルミニウム製ヒートシンクを使用し、熱放散を改善します。
Rugged structure to prevent inxterference
Five sealed design strucure,power supply, input, energy storage and left and right
channels are strictly independent which gretly reduces the free electromagnetic in the box
we use a large comb shaped aluminum high-efficiency heat sink to improve heat dissipatin and give the sufficeint power to the power supply circuit.
Basic specifications:基本使用
定格出力

Rated output:

80W+80W 8Ω負荷
160W+160W 4Ω負荷
周波数特性

Frequency characteristics

20Hz〜70KHz(+1.0dB/-3.0dB)
全高調波歪率

Total harmonic distortion

0.08% at 1kHz by 100W.
S/N比

S / N ratio

90dB
外径寸法

Outer diameter

445(W) x 210(H) x 470(D) mm
重量

weight

37.30Kg